On Friday, basketball recruiting analyst Garrett Tucker joined host Drew DeArmond on Talkin' Ball on ESPN Radio 97.7 in Huntsville. Here is the interview.

Join the forum discussion.
For the past several weeks, speculation was that Tanner junior Chadarius Townsend wouldn't wait long before he accepted his scholarship offer from Alabama. The 6-0, 180-pound two-way standout ended that speculation today when he became the fifth member of the Tide's 2017 class of commitments. Townsend also had offers from Auburn and Kentucky.
It's been expected since his standout performance at the Tide's camp in early June. Tonight, rising junior Chadarius Townsend of Tanner pulled the trigger for Alabama. As a sophomore last season, the 6-0, 180-pound Townsend rushed for 1,571 rush yards and 20 touchdowns and passed for another 857 yards and 18 scores at quarterback. He's projected as a safety in college. More later.
As seen on WVUATV, the home of Tider Insider TV.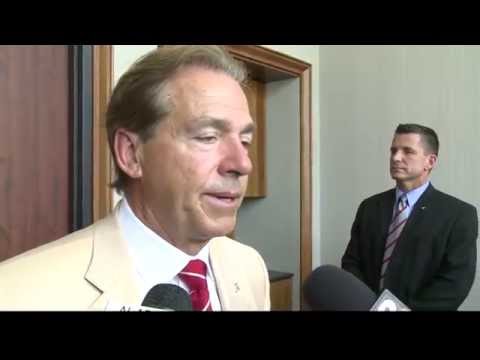 This evening, Alabama added the 19th member to its 2016 class when safety Shawn Jennings of Dadeville announced his intentions to sign with the Tide. It was a big day for the 6-1, 217-pound Jennings.
Shawn Jennings statement on his commitment to Alabama.
Dadeville safety Shawn Jennings has announced his commitment to Alabama. The 6-1, 210-pound safety also had offers from Auburn and Memphis. Jennings is the younger brother of Tide freshman linebacker/defensive end Anfernee Jennings. He is the 19th commitment in UA's 2016 class. Alabama is expected to sign as many as 28 players in this class.
One of the emerging 2017 prospects in Georgia is Xavier McKinney, a 6-1, 185-pound safety from Roswell. McKinney has recently picked up offers from Alabama, Clemson and South Carolina. And he's drawing interest from Auburn, North Carolina, Tennessee and Virginia Tech.
The Alabama coaching staff recently welcomed to campus running back Anthony McFarland of DeMatha HS in Hyattsville, Maryland. The 5-8˝, 190-pound rising junior already has 23 offers, including ones from Alabama, Auburn, Baylor, Clemson, FSU, Georgia, Michigan, Michigan State, Nebraska, Notre Dame, Ohio State, Penn State, South Carolina, Tennessee and Wisconsin. He's also getting interest from Florida, Pittsburgh, TCU and Texas.
Tide placekicker commit Eddy Pineiro wins kicking competition with a 60-yard field goal.
2015 running back Jordan Stevenson is back on the market. The star running back from Dallas-South Oak Cliff, Texas signed with Wisconsin back in February. He learned this past week that he had been denied admission by the school and he's now exploring other options. Stevenson is on an official visit at Nebraska this weekend. He's also spoken with Tide head coach Nick Saban.
On Thursday, TI went inside The Game with host Ryan Fowler on WDGM Tide 99.1 in Tuscaloosa. Here is that interview.
Head coach Brandon Allen joined Drew DeArmond on Talkin' Ball ESPN Radio 97.7 in Huntsville to discuss his star player at Freedom HS in Morganton, NC, new Tide RB commit B.J. Emmons.

One high-profile prospect at Alabama's camp last week was Stanford Samuels, a 6-2, 175-pound cornerback from Flanagan HS in Pembroke Pines, Florida. The class of 2017 standout has more than 30 offers, including ones from Alabama, Auburn, Clemson, Florida, FSU, Georgia, LSU, Miami, Michigan, Oklahoma, South Carolina, TCU, Tennessee, Texas and UCLA. He's also getting looks from Notre Dame, Ohio State, Ole Miss and Oregon.
Nick Saban has made Alabama into a national recruiting power like never before. His recruiting classes have been loaded every year with top prospects from every corner of the country. The class of 2016 will be no different. Among the Tide's current list of 18 commitments, eleven other states are represented. Here's five top out-of-state uncommitted prospects being targeted by Alabama.
Summer camp gives the Tide staff an opportunity to see several quarterbacks up close. One 2017 QB prospect the staff got a glimpse of at last week's camp was Loganville-Grayson, GA rising junior Chase Brice.