One of the emerging 2017 prospects in Georgia is Xavier McKinney, a 6-1, 185-pound safety from Roswell. McKinney has recently picked up offers from Alabama, Clemson and South Carolina. And he's drawing interest from Auburn, North Carolina, Tennessee and Virginia Tech.
The Alabama coaching staff recently welcomed to campus running back Anthony McFarland of DeMatha HS in Hyattsville, Maryland. The 5-8½, 190-pound rising junior already has 23 offers, including ones from Alabama, Auburn, Baylor, Clemson, FSU, Georgia, Michigan, Michigan State, Nebraska, Notre Dame, Ohio State, Penn State, South Carolina, Tennessee and Wisconsin. He's also getting interest from Florida, Pittsburgh, TCU and Texas.
Tide placekicker commit Eddy Pineiro wins kicking competition with a 60-yard field goal.
2015 running back Jordan Stevenson is back on the market. The star running back from Dallas-South Oak Cliff, Texas signed with Wisconsin back in February. He learned this past week that he had been denied admission by the school and he's now exploring other options. Stevenson is on an official visit at Nebraska this weekend. He's also spoken with Tide head coach Nick Saban.
On Thursday, TI went inside The Game with host Ryan Fowler on WDGM Tide 99.1 in Tuscaloosa. Here is that interview.
Head coach Brandon Allen joined Drew DeArmond on Talkin' Ball ESPN Radio 97.7 in Huntsville to discuss his star player at Freedom HS in Morganton, NC, new Tide RB commit B.J. Emmons.

One high-profile prospect at Alabama's camp last week was Stanford Samuels, a 6-2, 175-pound cornerback from Flanagan HS in Pembroke Pines, Florida. The class of 2017 standout has more than 30 offers, including ones from Alabama, Auburn, Clemson, Florida, FSU, Georgia, LSU, Miami, Michigan, Oklahoma, South Carolina, TCU, Tennessee, Texas and UCLA. He's also getting looks from Notre Dame, Ohio State, Ole Miss and Oregon.
Nick Saban has made Alabama into a national recruiting power like never before. His recruiting classes have been loaded every year with top prospects from every corner of the country. The class of 2016 will be no different. Among the Tide's current list of 18 commitments, eleven other states are represented. Here's five top out-of-state uncommitted prospects being targeted by Alabama.
Summer camp gives the Tide staff an opportunity to see several quarterbacks up close. One 2017 QB prospect the staff got a glimpse of at last week's camp was Loganville-Grayson, GA rising junior Chase Brice.
As seen on WVUATV, the home of Tider Insider TV.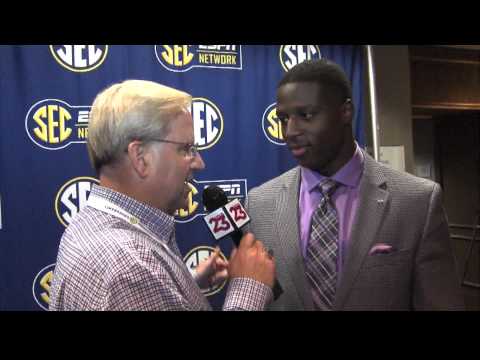 One of the state's top prospects for 2017 is linebacker Will Ignont of New Market-Buckhorn, AL. The 6-1, 225-pound Ignont has already picked up offers from Alabama, Auburn, Florida, LSU, Nebraska, Ole Miss and Tennessee, among others. Ignont was in Tuscaloosa last Friday for the Tide's Champions Cookout.
Texas 2015 running back/kick returner Xavian Marks of Richmond-George Ranch announced via Twitter that he'd signed a football scholarship with Alabama. The 5-8, 155-pound speedster has been clocked at 4.38 in the 40 and 10.39 in the 100 meters. Marks also plans to run track at UA. Marks' brother, Torin, a 5-11, 170-pound defensive back/receiver, will also join the Tide program as a walk-on. More later.
Madison Academy in Madison, AL has had some highly recruited prospects recently, but none more highly-regarded than 2017 offensive tackle Austin Troxell, who is expected to be one of the nation's most sought after prospects next year. The 6-6, 275-pound Troxell was in Tuscaloosa on Friday at the Champions Cookout.
With today's commitment of running back B.J. Emmons of Morganton-Freedom, NC, Alabama took a major step in filling a huge need in the 2016 class. The Tide is looking for big, strong, speedy backs. The 5-11, 232-pound Emmons, who ran for 2,348 yards and scored 38 TDs last season, is that and much more.
Join the forum discussion.
It was just a matter of time for B.J. Emmons. Since making an unofficial visit to Tuscaloosa last Monday, the standout running back from Freedom HS in Morganton, NC was expected to commit to UA. This morning it became public that 5-10, 230-pounder selected the Tide over Tennessee. Emmons originally committed to Georgia. He runs a 4.5 40.
Rising sophomore quarterback Allan Walters is on the fast track to being one of the nation's top prospects in the class of 2018. The 6-2, 201-pound signal-caller from Paramus Catholic HS in Paramus, New Jersey has already collected offers from Alabama, Kentucky, Louisville, Michigan, Ole Miss, Rutgers and Temple. He's also receiving interest from Florida, Michigan State, Missouri, Penn State and UCLA, among others.
Through the years, Alabama has had a list of great players from Central HS in Phenix City, including Woodrow Lowe, Eddie Lowe, Billy Jackson and Jeremiah Castille, among others. For 2017, Central linebacker Markail Benton is the early favorite as the state's top prospect. The 6-2, 229-pound Benton was in Tuscaloosa on Friday evening at Champions Cookout held for the Tide's top recruiting targets.
This past week, former Alabama offensive lineman Jerry Duncan joined Drew DeArmond on Talkin' Ball on ESPN Radio 97.7 in Huntsville. Here is that interview.

A medical condition prevented Blake Williams from playing the past two seasons, but that hasn't stopped college recruiters from pursuing the 6-3¾, 227-pound tight end/H-back from Mustang, OK.
See the forum.
The Alabama staff has handed out several offers this week. One of those offers was to 2017 wide receiver DeVonta Smith of Amite, Louisiana. The 6-0, 156-pound Smith, a prep teammate of Tide safety commit Joshua Perry, spent Monday through Wednesday camping at UA.
Tramonda Moore was one of the top 2016 performers at the Tide's final summer camp. The 6-5, 345-pound offensive lineman from Marshall HS in Oklahoma City, OK spent Tuesday at UA. He arrived in Tuscaloosa with offers from Oklahoma, Oklahoma State, TCU and Tulsa. He left with one from Alabama.
Regarding his selection to represent the team at SEC Media Days and his new-found leadership role, Drake said, "It's something any player would look forward to – being a pivotal part of a team's success. I don't look at myself as being the sole proprietor of the team or its success, because we have a number of individuals who help this team be a cohesive group."
Presented by WVUA-TV, the home of Tider Insider TV
Presented by WVUA-TV, the home of Tider Insider TV
Presented by WVUA-TV, the home of Tider Insider TV
Presented by WVUA-TV, the home of Tider Insider TV
In the weeks between Alabama's 2014 SEC championship game win over Missouri and its ill-fated trip to New Orleans, Reggie Ragland had a decision to make. His NFL Draft Assessment came back showing him as a second round pick. Should he stay, or should he go pro?
Nick Saban is quite glad to have nothing to report since spring ball, as in nothing negative, and he said as much when he took the podium at SEC Media Days Wednesday.
Star wide receiver Trevon Diggs of Gaithersburg, MD is expected to arrive in Tuscaloosa on Wednesday afternoon. See the forum.