This past weekend UA linebacker commitment VanDarius Cowan of Palm Beach Gardens, Florida made it back to Tuscaloosa. The 6-4, 230-pound linebacker was joined by his mother on the official visit.
Running back Damien Harris and linebacker Reuben Foster spoke to the media prior to today's practice. Here are some of their comments.
Team working outside in full pads.
Bryant-Denny Stadium is nothing new to Henry Ruggs. The 6-0, 175-pound receiver from Lee HS in Montgomery has been to several Alabama games. Ruggs was in Tuscaloosa again last Saturday for the Texas A&M game.
See the forum
Presented by WVUA 23 in Tuscaloosa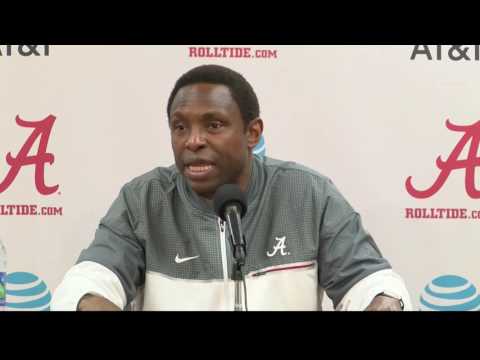 Presented by WVUA 23, the home of TI TV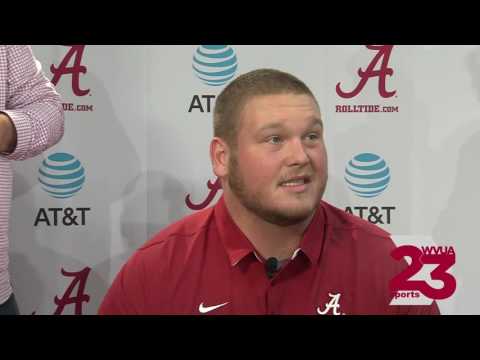 Alabama has a commitment from star JUCO cornerback Jhavonte Dean. The Tide would like to add another top corner in the 2017 class. Stanford Samuels, a highly-touted 6-2, 177-pounder from Flanagan HS in Pembroke Pines, FL, was in Tuscaloosa on an official visit for the Alabama-Texas A&M game this past weekend.
Elijah Conliffe of Hampton, Virginia was among several big-time prospects who spent last Saturday in Tuscaloosa. The 6-4, 305-pound defensive lineman had a great time.
Over the weekend, Alabama added tight end Major Tennison to its impressive group of commitments in the class of 2017. The 6-5, 230-pound standout from Bullard, Texas had an outstanding time while on his official visit to the Capstone.
Bradley Bozeman, Damien Harris and Cam Robinson were the honorees on offense, while Jonathan Allen, Reuben Foster and Marlon Humphrey represented the defense. Keith Holcombe, JK Scot, and Mack Wilson rounded out the list, representing the honorees on special teams.
Jonathan Allenís 30-yard fumble return for a touchdown last Saturday was, in Saban's words, "the real turning point" in Alabamaís 33-14 win over Texas A&M.
As expected, Alabama has landed a commitment from Bullard, TX tight end Major Tennison. The 6-6, 240-pounder, once committed to Texas, announced his decision via twitter on Sunday evening. Tennison joins Waco tight end Kedrick James as Texas tight ends committed in the Tide''s 2017 class. More later.
Here are scenes from Saturday's game.
Among the top prospects visiting Tuscaloosa this past weekend was star defensive lineman Phidarian Mathis of Monroe-Neville, LA. Following the Tide's win over Texas A&M on Saturday, speculation was that Mathis might pull the trigger for Alabama very soon. But the 6-4, 293-pound standout tells TI that he's not ready to make a decision just yet.
Nick Saban had good news and bad news after his top-ranked Alabama teamís come-from-behind 33-14 win at home over No. 6 Texas A&M.
On RollTide.com
Here are comments made by coaches and players of both teams after Saturday's game.
Alabamaís 33-14 win over No. 6 Texas A&M today gives head coach Nick Saban 68 career wins vs. Associated Press Top 25 teams, good for third all-time.
See the forum
Najee Harris visit update
Tide star running back commit Najee Harris from Antioch, CA will not make an official visit to Alabama this weekend afterall. Following his team's game on Friday night, Harris decided to delay the visit.
Alabama and Texas A&M will square off in a top-10 matchup on Saturday. As expected, Tuscaloosa will be a popular destination for many of the nationís premier prospects. Hereís a look at some of the players expected on campus tomorrow.
Make your predictions before the start of the game.
Top-ranked Alabama (7-0, 4-0 SEC) welcomes No. 6 Texas A&M (6-0, 4-0 SEC) to Tuscaloosa for a Saturday afternoon showdown. Kickoff inside Bryant-Denny Stadium is set for shortly after 2:30 p.m. Here are five storylines for the game.
Top-ranked Alabama hosts number six Texas A&M this Saturday in what will be a huge matchup in Tuscaloosa. The Tide is also expecting a big recruiting weekend, with several top prospects planning to visit. Here's a quick rundown on a few of the top 2017 prospects expected to visit.