Last year, Alabama walk-on guard Lawson Schaffer was one of three recipients of the team's "Commitment to Service Awards" for work he did in the Tuscaloosa community. He's a giving guy. That continued recently when he willingly gave up the number he wore in high school at Cullman and for two years at Alabama. You see, incoming freshman five-star Collin Sexton wanted No. 2, and Schaffer was more than happy to give it up.
Former Alabama player and associate AD Thad Turnipseed has worked under both Nick Saban and Dabo Swinney. Turnipseed, who is currently at Clemson with Swinney, says in this podcast interview with Scott Griffin that the two head coaches are more similar than some might think.
This past weekend, tight end Dominick Wood-Anderson of Arizona Western CC in Yuma made his official visit to UA. The 6-5, 247-pound junior college standout enjoyed his time at the Capstone.
So far, the Champions Cookout from last Friday has netted Bama just one public commitment. Star offensive tackle Tommy Brown of Santa Ana-Mater Dei, CA announced his decision for the Tide on Friday. More...
TI on Smashmouth Radio
TI joined hosts Scott Griffin and Pat Smith on Smashmouth Radio on 99.1 The Game in Birmingham. The show can be heard weekdays from 6-9 AM. Here is that interview.
TI joined host Gary Harris on Tide 102.9 in Tuscaloosa to discuss Alabama football recruiting. Here is that interview.
For Tommy Brown, his commitment to Alabama last Friday was the culmination of a lifelong dream. The standout offensive tackle, who is the son of former Tide shot putter, Vince Brown, grew up watching Alabama football.
Over the past few days, several highly-rated prospects made their way to UA. One of the top players in town was Keondre Coburn, a 6-2, 315-pound defensive tackle from Westfield HS in Houston, Texas. Coburn was on campus during for Friday's Champions Cookout and Saturday's OL/DL camp.
Slade Bolden of West Monroe, LA wasn't at the Tide's Champions Cookout on Friday, but the 5-11, 197-pound all-purpose star did take part in the Alabama camp last week.
California OL commits to Alabama
The Tide has landed it's seventh commitment in the 2018 class. Top OL Tommy Brown, a 6-7, 315-pounder from Santa Ana-Mater Dei, CA announced via Twitter this morning his decision for Alabama. Brown chose UA over several top programs,including Arizona State, Auburn, Cal, Michigan, Oregon and UCLA, among others. Brown's father, Vince Brown, threw the shot put at Alabama in the early 80s. More later.
I'm committing #RollTide pic.twitter.com/kpMQBgT0gB

— Tommy Brown (@Tommy_brown18) July 21, 2017
Alabama's Champions Cookout is expected to draw several of the Tide's top targets to campus. Here's a look at some of the players planning to attend Friday's invitation-only event.
Sophomore running back B.J. Emmons and sophomore cornerback Aaron Robinson are transferring from the Alabama program, according to a report by AL.com. Speculation dating back to the spring was that both players were contemplating leaving UA.
Prior to this week's camp, Jarrett Bell was a complete unknown to the Alabama coaching staff.
Over the past three days, the Alabama staff has been busy evaluating campers. One camper who picked up a Tide offer was Riley Simonds, a 6-4, 310-pound offensive lineman from Buford, Georgia. The class of 2019 standout camped on Tuesday.
Presented by WVUA 23 in Tuscaloosa, the home of Tider Insider TV.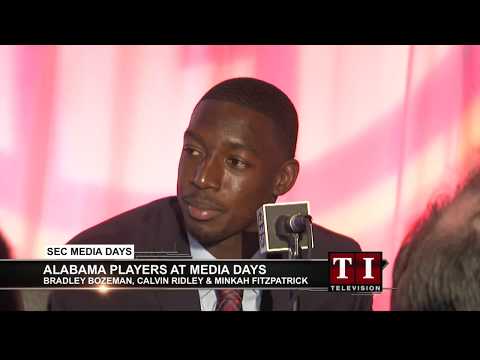 Things were a little quiet last season, apparently, on the Alabama men's basketball team. And it "sounds" like that's changing. Tide Coach Avery Johnson said as much Tuesday on the ESPN podcast "Courtside" with former coaches Seth Greenberg and Dan Dakich.
It's not that the junior Crimson Tide receiver from Fort Lauderdale, Fla., had an off year in 2016 or that his team's season was a disaster, but it seems almost like a sophomore slump following a record-setting freshman campaign.
Alabama senior linebackers Rashaan Evans and Shaun Dion Hamilton are among 51 candidates from around the country named to the preseason list.
Alabama junior defensive back Minkah Fitzpatrick is among 46 players from around the country named to the preseason list. The watch list is the sixth for Fitzpatrick this preseason.
While former Alabama great and NFL pro bowler Ha Ha Clinton-Dix contributes mightily to the Green Bay Packers defense, he continues to follow the Crimson Tide closely.
The next-to-last UA football camp of the summer kicks off Sunday. As is always the case, several talented prospects will be in attendance. Here's a look at some of the players planning to be on campus over the next few days.
In today's five thoughts, Alabama looks again to be headed for another strong OL class. Make that "two strong OL classes," because the Tide is already laying the groundwork for a strong OL class in 2019. The Tide is also zeroing in on its top tight end targets. That and more in Friday's five.
Senior center Bradley Bozeman was honored to represent the Tide Wednesday at SEC Media Days. During an interview there, he said that he felt good about how the 2017 Tide offensive line was gelling.
TI joined Harold Bugg and Brett Beaird, co-hosts of the Boomo Bugg show on WYTK 93.9 the Score in North Alabama and Southern Tennessee this week. Here is the interview.

It's here, folks. College football 2017 is upon us. And when it gets here Labor Day weekend for Alabama vs. Florida State in Atlanta, experience could be a factor. Tide Coach Nick Saban hinted as much at his annual SEC Media Days appearance Wednesday.
It's hard to imagine that a team with four national titles since 2009 and a runner-up finish last year would have a chip on its shoulder. Well, you don't have to imagine it. It's real.
The NCAA's Division I Council Transfer Working Group has thrown out topics concerning transferring that discussed two models: One model would require every transfer student to sit out a year to acclimate to a new school; the other would allow all transfers to play immediately provided they present academic credentials that predict graduation at the new institution. Alabama Coach Nick Saban had a strong word against the latter notion of that model at SEC Media Days. Here is the audio of Saban's comments as presented by Smashmouth Radio on 99.1 The Zone in Birmingham.