Alright, University of Alabama fans, before last season's narrative spins into the Twilight Zone with false takes on how the Tide is now on some mythical downward spiral -- which seemingly happens in close wins, let alone razor-thin losses -- we should realize that the 2017 squad will still be the most talented one in the nation.
One of the top recruits in Tuscaloosa this past weekend was Tide linebacker commitment Markail Benton. The 6-2, 235-pound defender from Central HS in Phenix City, Alabama enjoyed his time on campus.
The UA staff welcomed several commitments to campus over the weekend. Among them was Kendall Randolph, a 6-5, 300-pound standout offensive lineman from Bob Jones HS in Madison, Alabama.
Phidarian Mathis is one of the Tide's top remaining targets. The 6-4, 295-pound defensive lineman from Neville HS in Monroe, Louisiana officially visited UA this weekend. He had an excellent time in Tuscaloosa.
Given the reluctance prospects have for doing interviews these days, news from this weekend's group of visitors to Tuscaloosa might be slow to trickle in. But, in terms of Alabama's filling out the last few spots in its 2017 class, news that eventually comes from this weekend might be very big.
Funny how recruiting works. Both Austin Wiley and Mustapha Heron were recruited by Avery Johnson to play basketball at Alabama. Both chose Auburn. Both helped Auburn beat Alabama 84-64 Saturday at Auburn Arena.
His Twitter handle is @Greg_Byrne. He lists his Twitter goals as "engage, communicate and have some fun."
Calling it a "great day for the University of Alabama," Bill Battle passed the reins to new Crimson Tide athletic director Greg Byrne on Thursday, adding that he was unconcerned what his four-year legacy was as long as it included Nick Saban as the Tide's football coach.
Precious few spots remain in Alabama's star-studded recruiting class of 2017. Here is a look at the prospects expected to officially visit Tuscaloosa this weekend.
Presented by WVUA 23, the home of Tider Insider TV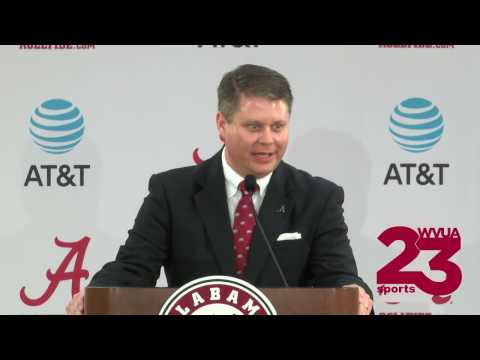 Greg Byrne, Vice President for Athletics at the University of Arizona, was formally introduced as The University of Alabama's Director of Athletics by UA President Dr. Stuart Bell at a press conference in the Mal M. Moore Athletics Building Thursday afternoon. Byrne succeeds Bill Battle, who announced Sunday night his plans to step down after nearly four years as Director of Athletics.
This coming weekend Alabama will host several top prospects on official visits, including four of the best from the state of Louisiana -- linebacker Chris Allen of Baton Rouge-Southern Lab, wide receiver DeVonta Smith from Amite, defensive lineman Phidarian Mathis of Monroe-Neville and safety Todd Harris of South Plaquemine.
Sophomore Avery Johnson Jr. and junior Riley Norris scored 13 points each to help lift the Alabama men's basketball team to a 68-56 victory over the Missouri Tigers on Wednesday night at Coleman Coliseum.
Newly hired UA athletics director Greg Byrne joined hosts Scott Griffin and Pat Smith on Smashmouth Radio 99.1 in Birmingham on Wednesday morning. Here is that interview.

Alabama picked up its fourth commitment in the class of 2018 today when Xavier Williams announced his decision via Twitter. The 6-1, 190-pound wide receiver/defensive back from Chaminade-Madonna HS in Hollywood, Florida is one of the best juniors in the country. He's excited about his decision.
Presented by WVUA 23 in Tuscaloosa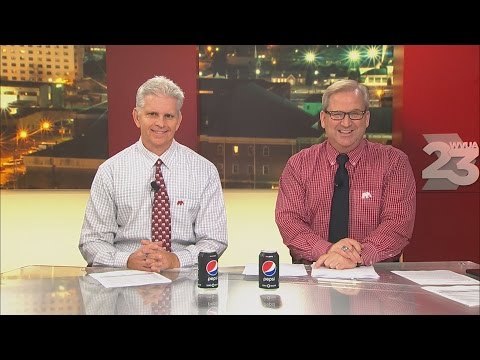 Xavier Williams of Chaminade-Madonna Prep in Hollywood, Florida, announced his commitment to Alabama late Tuesday afternoon via Twitter. As a junior, Williams caught 31 passes for 866 yards and 10 touchdowns. He joins Dekaney, Texas tight end Malcolm Epps, Bainbridge, Georgia running back Dameon Pierce and Memphis, Tennessee defensive end Jordan Davis as early pledges in Alabama's 2018 class.
Nick Saban is slated to make a swing through Louisiana today to see Baton Rouge linebacker Chris Allen. The Southern Lab HS standout remains committed to Alabama, but the hometown LSU Tigers won't go down easily.
TI joined host Aaron Suttles on Tide 102.9 in Tuscaloosa to discuss UA's hiring of Greg Byrne as athletics director, the Tide's 2017 recruiting class and more.
Alabama head coachNick Saban announced the hiring ofMike Locksley as a full-time offensive assistant coach on Monday.