TI joined host Gary Harris on Tide 99.1 in Tuscaloosa to recap Alabama's recruiting class. Here is that interview.
The recruitment of Tadarian Moultry of Jackson-Olin HS in Birmingham, Alabama is starting to heat up. The 6-3, 221-pound junior linebacker has recently picked up offers from Alabama, Auburn, Clemson, Mississippi State, Ole Miss and Troy.
Missouri was struggling in SEC basketball play before it lost two players to suspension. Alabama was coming off a hard-fought road win in Starkville. Such was the preamble for an 80-71 Tide win over Missouri Saturday before a sold-out Coleman Coliseum crowd announced at 15,383.
Perhaps the most talented prospect at the Tide's recent Junior Day wasn't a junior. He was freshman Owen Pappoe, a 6-1, 198-pound linebacker from Grayson HS in Loganville, Georgia. The class of 2019 star arrived in Tuscaloosa with more than 20 offers. He left with a big one from Alabama.
Make your basketball predictions before the start of the game at 2:00 CT Saturday afternoon.
Presented by WVUA 23, the home of Tider Insider TV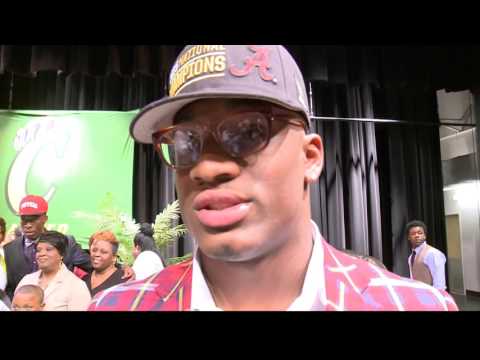 On Signing Day, Terrell Hall of St. John's College HS in Washington DC revealed a decision that he'd kept a secret for several months -- that he was headed to Alabama.
The recruiting story of the year might be that of Joshua Jacobs. Over the past two weeks, the 5-10, 200-pound running back from McLain HS in Tulsa, OK went from being a virtual unknown with only a few scholarship offers to signing Wednesday with the national champion Crimson Tide.
The Tide coaches comb every corner of the country for defensive linemen. They found one for 2017 at ASA College in Brooklyn, New York. They recently offered him, Teair Tart-Spencer, a scholarship.
An impressive group of offensive linemen were on campus for Saturday's Junior Day. Among them was Alabama commitment Alex Leatherwood, a 6-5, 310-pound junior from Washington HS in Pensacola, Florida.
Alabama's 2016 class came together nicely on Wednesday. The last addition to the top-ranked class on signing day was tight end Irvin Smith, a 6-4, 235-pound star from Brother Martin HS in New Orleans, Louisiana.
Standout defensive back Jared Mayden of Sachse HS in Texas was one of the Tide's big additions on Signing Day. The 6-0, 202-pound senior is glad he finally put pen to paper and inked with Alabama.
Presented by WVUA 23, the home of Tider Insider TV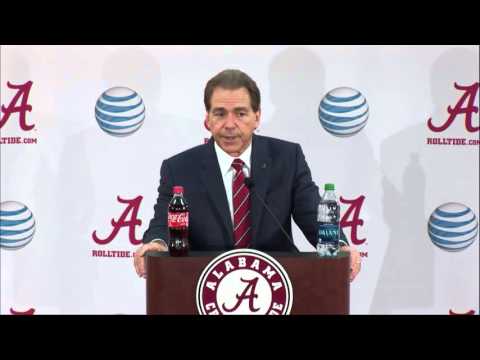 New Tiders
The following have signed to play football for the Tide:
Charles Baldwin
Christian Bell
Deonte Brown
Raekwon Davis
Trevon Diggs
B.J. Emmons
Miller Forristall
Jalen Hurts
Shawn Jennings
Kendell Jones
Nigel Knott
Chris Owens
Aaron Robinson
T.J. Simmons
Jonah Williams
Quinnen Williams
Shyheim Carter
Ben Davis
Terrell Hall
Joshua Jacobs
Jamar King
Scott Lashley
Jared Mayden
Irvin Smith
Lyndell Wilson
Total number signed = 25
Mack to Alabama
Star linebacker Mack Wilson of Montgomery-Carver announced his commitment to Alabama. The 6-2, 225-pound Wilson ranks as one of the nation's top prospects.
Alabama pulled a surprise this morning by flipping Deerfield Beach, FL cornerback/athlete commit Aaron Robinson from Florida. The 6-1, 180-pound Robinson runs a 4.4 40.
Cornerback Jared Mayden of Sachse, TX announced his commitment to Alabama this morning. The elite prospect chose the Tide over Oklahoma.
Ben Davis to Alabama
Gordo star Ben Davis has announced his commitment to Alabama. Davis is considered one of the nation's top linebacker prospects.
Carter commits to Tide
In a ceremony this morning, Kentwood, LA standout cornerback Shyheim Carter announced his commitment to the Tide. As of 9AM, UA had not announced Carter's signing.
Even at this late hour, information (much of it conflicting) is flying around. Sifting through it all, I think Alabama has at least five (probably more) commitments that aren't public. The Tide currently has 17 public commitments (including Christian Bell, a greyshirt from 2015). Here are five prospects we think pick Alabama tomorrow.
Like in football, road wins are no easy thing to come by in the SEC. Avery Johnson and his Crimson Tide hoops team needed overtime in Starkville, but when all the whistles had blown and all the time had expired, all 45 minutes, Bama had an 82-80 win that required a lot of pluck and grit.
West Point, MS star offensive tackle Scott Lashley has announced his commitment to Alabama. The 6-6, 305-pound Lashley, regarded as one of the nation's top offensive tackles, picked the Tide over LSU and Mississippi State. On Monday, Alabama landed highly-regarded Madison-Germantown, MS cornerback Nigel Knott. Below is video of Lashley's announcement this afternoon.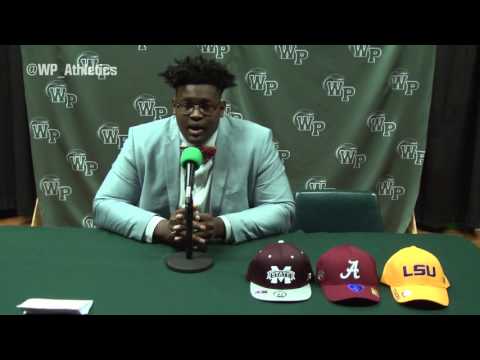 Join the forum discussion.
I've been speaking to a few sources close to the situation. It still appears that Alabama is trying to...
Class of 2017 offensive lineman Austin Troxell was one of the high profile players who showed up for last Saturday's Junior Day at the Capstone. The 6-7, 300-pound in-state standout from Madison Academy in Madison has 20 offers, including ones from Alabama, Auburn, Florida, FSU, Georgia, LSU, Miami, Notre Dame and Tennessee.
As noted in our earlier update, TI feels that Alabama has the lead for West Point, MS star OT Scott Lashley. Lashley is scheduled to announce his decision tomorrow at 4 PM.
From Bleacher Report
Madison-Germantown, MS cornerback Nigel Knott has committed to Alabama. More later.
Here are some quick thoughts on several of the Tide's top remaining target.
Chadarius Townsend of Tanner is one of the state's most exciting players in the 2017 class. The 6-0, 190-pound junior committed to Alabama last summer. He was back on campus Saturday for the Tide's Junior Day.
One of the top prospects at Saturday's Junior Day in Tuscaloosa was DeVonta Smith, a 6-0, 153-pound wide receiver from Amite, Louisiana. Smith holds offers from Alabama, Baylor, Georgia, LSU and Ole Miss.
Several top underclassmen were at UA for the Tide's Junior Day. Among them was 6-2, 196-pound Myles Mason of Pleasant Grove. The 2018 standout has offers from Alabama, Auburn and Mississippi State, among others, and he's drawing interest from Florida State, Georgia, Notre Dame, Oregon, Tennessee, UCLA and Vanderbilt.
The Alabama men's basketball team got into foul trouble early at South Carolina and lost on the road, 78-64, on Saturday night in front of a sold out crowd at Colonial Life Arena. Senior guard Retin Obasohan, who was one of four Crimson Tide players to foul out of the contest, finished with a game-high 23 points in the losing effort.
Heading into the final few days before NSD next Wednesday, figuring out where the Tide stands with several top targets isn't easy. There are still so many variables that impact how this recruiting class ends up. But let's go on where we think things stand as of now. We'll even speculate some on what we think might happen.
Tulsa-McLain RB Joshua Jacobs and his father are expected to arrive in Tuscaloosa on an official visit on Saturday afternoon. See the forum.
In the midst of putting the finishing touches on its 2016 signing class, the Alabama staff will welcome several underclassmen to campus on Saturday. Here's a look at some of the prospects planning to attend UA's first Junior Day of the year.
Tulsa RB Joshua Jacobs was virtually unknown a week ago. Now he's considered one of the top six players in the country at his position with offers from Alabama, Missouri, Oklahoma and several others.
As we head down the final stretch to NSD 2016 there are still plenty of questions about how the Tide will finish. It appears that Bama will close strong, possibly very strong. We're not going to make many bold predictions yet, but here are some thoughts on a few of Alabama's top defensive targets. We'll offer our thoughts on some offensive targets later today.
Tulsa-McLain RB Joshua Jacobs spoke with Tide running backs coach Burton Burns again this morning according to sources close to the standout runner
One of the biggest needs in this class is linebacker and it appears Alabama might fill all four spots with elite prospects.
After going back and forth between Alabama and Mississippi State over the last few weeks, Meridian defensive tackle Raekwon Davis now says he's sticking with the Tide for good.
Alabama running backs coach Burton Burns was in Tulsa this afternoon meeting with fast rising running back Joshua Jacobs and his father. See the forum for the latest.
The Crimson Tide would like to add two more receivers to its 2016 recruiting class. Among the top prospects remaining on UA's receiver board is Wellington, FL standout Ahmmon Richards. The tall, lanky Richards was in Tuscaloosa on an official visit last weekend.
With Signing Day set for next Wednesday, the Alabama coaching staff will welcome in several more top-notch players throughout the week. Here is a look at the prospects expected to visit Tuscaloosa.
An early morning stop for Nick Saban and Bo Davis was slated to be in Macon to see Noxubee County DE Jeffery Simmons.
Cornerback Nigel Knott of Germantown HS in Madison, MS has been one of the Tide's top cornerback targets for months. Last weekend, the 5-11, 176-speedster was back on campus for his official visit.