It's a long way until national signing day of 2018. But remember this name: Justin Mascoll. The rising junior defensive end/linebacker from Snellville-South Gwinnett, GA already has offers from Alabama, Clemson, Florida State, Florida, Georgia, Miami, Michigan State, Nebraska and Stanford, among others.
For Mitch Gaspard's Crimson Tide baseball team, it was win Wednesday or sweat/hope/pray for four days as a member of the loser's bracket. As it turned out, the latter is the case after Bama (32-25) lost 4-1 to Mississippi State in a second round SEC Tournament game at a packed Hoover Met that seemed to have slightly more maroon than crimson.
The feel-good story of the Tide's 2016 class was that of Joshua Jacobs. The 5-11, 207-pound running back from McLain HS in Tulsa, Oklahoma was unknown to most major college coaches until the last three weeks of recruiting, when he picked up offers from Alabama, Missouri and Oklahoma, among others. Jacobs chose the Tide on signing day. He plans to arrive in Tuscaloosa on May 28.
Presented by WVUA 23, the home of Tider Insider TV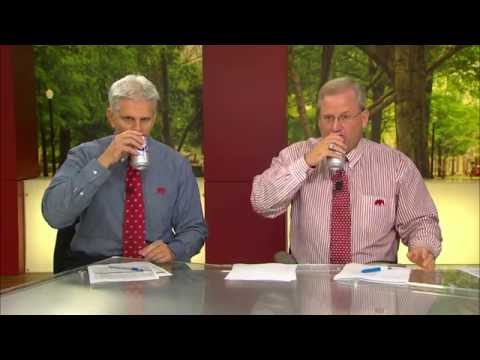 What went down at the Hoover Met may or may not have been an NCAA play-in game, but Alabama played like it was, especially on defense and on the mound. When the sun set on the Hoover horizon, it may have also set on Kentucky's season, as Alabama downed the Wildcats 5-2 to advance to the double elimination round of the 2016 SEC Baseball Tournament.
TI joined host Drew DeArmond on Talkin' Ball on ESPN Radio 97.7 The Zone in Huntsville. Here is that interview.

Taking a quick glance at Alabama's 2016 schedule, here's an early guess at the Tide five toughest opponents. Keep in mind that once the season starts, much can change.
TI joined host Gary Harris on Tide 99.1 in Tuscaloosa to discuss several subjects related to UA athletics.
The Alabama defense is expected to be stout again in 2016. There are few spots where incoming freshmen might earn playing time, but one area where they could is the defensive line. One freshman DL hoping to help out is the mammoth Kendell 'Hulk' Jones of Shoemaker HS in Killeen, Texas.
Patrick Murphy's Alabama softball team will live to host a Super Regional after the Tide raised its record to 49-12 with an 8-0 win over California in the NCAA's Tuscaloosa Regional Final. Bama has now won 31 straight regional (first round) NCAA tourney games.
Alabama baseball fell in the series finale with No. 10 South Carolina, 9-7, on Saturday afternoon at Sewell-Thomas Stadium.
Two home runs by the Gamecocks proved to be the difference.
Nigel Knott said goodbye to high school at his graduation ceremony last night. Now the Madison-Germantown, MS standout cornerback is ready to say hello to his new home in Tuscaloosa. The speedy incoming Tide freshman is slated to arrive in town soon for the start of summer school and to begin workouts.
When Alabama opens up vs USC on September 3rd, it might have a completely new offensive line, different from the one that helped win the national title last season.
After falling behind by four, the Tide evened things up before SC scored the game's final two runs in the sixth.
Wide receiver is a high priority for the Tide's 2017 class, and a prime target is Raymond, MS-Hinds CC standout Stephen Guidry. The 6-4, 180-pound Guidry, who is considered the nation's top JUCO receiver, was in Tuscaloosa on an unofficial visit on Monday.
For Alabama fans wondering about the academic status of B.J. Emmons, Morganton-Freedom, NC head coach Brandon Allen says that the incoming freshman running back is slated to arrive in Tuscaloosa on June 1 to start summer school and begin workouts. Given the Tide's lack of depth at running back, that's great news.