The Tide cranks up spring practice on Tuesday. Here are five areas to keep an eye on as practice proceeds.
Alabama baseball fell short in its comeback effort, as the Crimson Tide suffered a 6-5 loss to Georgia in Sunday's series finale at Sewell-Thomas Stadium. The loss moves UA to 16-5 overall and 1-2 to start Southeastern Conference play.
A five-run eighth was not enough for Alabama baseball, as the Crimson Tide's comeback came up just short in Saturday's 6-5 loss to Georgia. Following the midday contest, the Tide is 16-4 overall and 1-1 in Southeastern Conference play.
Villanova's 3-point aces got hot. Alabama's did not. Guard Donte DiVincenzo scored 18 points and made 5-11 from behind the 3-point arc to help lead No. 1 seed 'Nova over ninth-seeded Bama 81-58 in round two of the NCAA Tournament in Pittsburgh.
With runners on second and third and two down, junior Joe Breaux singled through the left side to cross the game-winner and help Alabama baseball walk off Georgia, 10-9, in 13 innings on Friday night at Sewell-Thomas Stadium.
Alabama basketball's first NCAA tourney appearance since 2012 finally arrived Thursday night in Pittsburgh. Result: Alabama 86, Virginia Tech 83. A late second half run of 7-0 gave the Tide a lead it would not relinquish and a Big Dance win for the first time since it downed Marquette in 2006, a Warriors team coached by new Georgia Coach Tom Crean.
Linebacker Kane Patterson of Nashville-Christ Presbyterian Academy has racked up an impressive offer list. The 2019 star already has offers from 25 schools, including Alabama, LSU, Ohio State, Oklahoma, Tennessee and Texas A&M, among others.
A season-high five home runs and an impressive pitching performance helped Alabama baseball record its second consecutive shutout with a 14-0 win over Alabama A&M on Wednesday evening at Sewell-Thomas Stadium.
Spring preview: Tide offense loaded
In today's podcast, Rodney joins Scott Griffin of Tide and Tiger to preview the offense.

Presented by WVUA 23, the home of TI TV.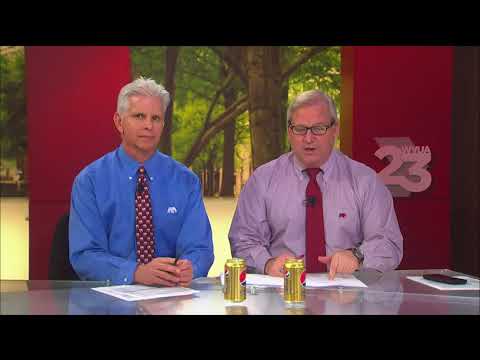 Five different starters ended the night with multi-hit efforts as Alabama baseball cruised past Alabama A&M, 15-0, in seven innings on Tuesday night at Sewell Thomas Stadium.
The first time Scott Crisco saw C.J. Clark cover a kickoff as a sophomore, he knew that Clark had something special.
The hay ride is about ready to take off to the barn-dance that will be Alabama vs. Virginia Tech in round one of the 2018 NCAA Men's Basketball Tournament. The ninth-seeded Tide will take on the No. 8 seed Hokies Thursday at approximately 8:20 p.m. CT on TNT. The game marks Alabama's first appearance in the Big Dance since 2012. Here are some snippets of what third-year Tide Coach Avery Johnson and his players had to say in their final meeting with the media before setting out later Tuesday.
TI joined host Gary Harris on Tide 102.9 in Tuscaloosa to discuss Alabama basketball and spring football. Here is that interview.
Will Reichard of Hoover is one of the best kicking prospects in the country. Most high school specialists find it difficult to earn one big-time offer, but the 6-1, 180-pound junior has already landed ones from Alabama, Georgia, LSU, Oklahoma and Oregon.
The drought is over. Avery Johnson's Alabama Crimson Tide basketball program is back in the NCAA Tournament for the first time since 2012. Bama (19-15) will be a nine seed, considered the no. 36 overall seed, and will face the eighth-seeded Virginia Tech Hokies (21-11) Thursday in Pittsburg at 8:20 CT. The contest will be broadcast by TNT. Here are some snippets of what people had to say upon officially learning that the Tide was going dancing.
Five runs across the final four innings, highlighted by a three-run seventh, helped Alabama baseball clinch the 5-2 victory and series win over New Mexico State on Saturday. With the win, the Crimson Tide moves to 13-3 on the season.
On the third day, the Tide ran out of gas. It didn't help having to play without its best inside threat. Junior post man Donta Hall sat out with concussion protocol, and that along with tired legs and sloppy offense led to Kentucky 86, Alabama 63.
Alabama baseball and New Mexico State split the Friday doubleheader at Sewell-Thomas Stadium. The Aggies came away with a 3-0 shutout win in the series opener before the Crimson Tide answered with a 3-1 win in the nightcap of the twinbill. Following the two games on Friday, Alabama sits at 12-3 overall.
The phrase "A Tale of Two Halves" may not be apt to describe what happened in St. Louis Friday afternoon. Auburn led by ten at the half. Alabama came out in the final 20 minutes and mauled the Tigers. Final: Bama 81, Auburn 63.
Everything was on the line for Avery Johnson's Alabama Crimson Tide hoops team in St. Louis as it opened SEC Tourney play. ESPN's BPI Index said Bama needed a win over Texas A&M to make the NCAA Tournament, giving UA a 99 per cent chance to get in with a "w." Final from the "Show Me State": Alabama 71, Texas A&M 70.
Steele Chambers of Blessed Trinity HS in Roswell, Georgia is one of the top, two-way prospects in the nation. Last season, the 6-2, 218-pound junior running back/linebacker rushed for 1,301 yards and 23 touchdowns and also racked up 70 tackles on defense.
Five Crimson Tide pitchers combined for a two-hit shutout win over No. 15 Southern Miss by a score of 3-0 on Wednesday night at Sewell-Thomas Stadium. With a second shutout victory on the year, Alabama improves to 11-2 overall, including a 9-0 record at home, the longest home winning streak since the 2010 season.
Presented by Scott Griffin of Tide and Tiger.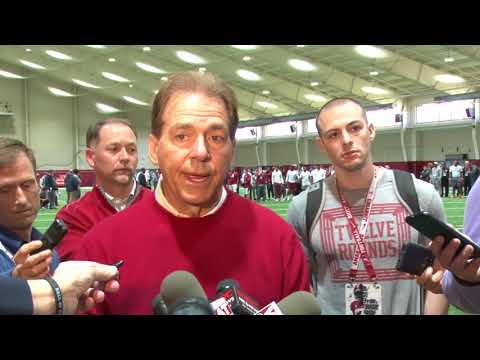 Presented by Scott Griffin of Tide and Tiger.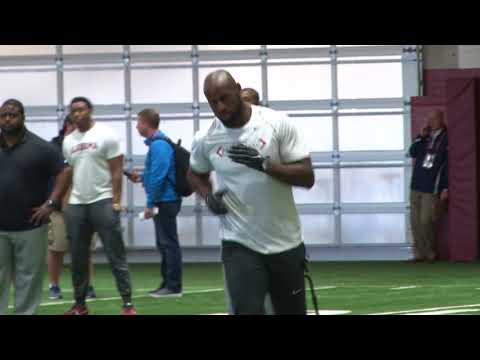 Alabama hosted its annual Pro Day on Wednesday afternoon with 19 draft-eligible Crimson Tide athletes participating in front of 80 scouts representing all 32 NFL teams.