In the last few weeks, 2017 linebacker/defensive end Markaviest Bryant has seen his recruitment explode. The 6-5, 230-pound standout from Crisp County HS in Cordele, GA has added several big-time offers, including one from Alabama.
To stay in the 2016 NCAA Tourney discussion, Avery Johnson and his Alabama basketball team needed a home win against Texas A&M Wednesday night. The Tide got just that, but not without some drama. The final: Bama 63, Aggies 62.
University of Alabama head coach Nick Saban announced the hiring of Derrick Ansley on Wednesday to coach the defensive backs for the Crimson Tide.
One of Alabama's top priorities in the 2017 class will be the defensive line. A top junior DL who picked up an offer from the Tide late last month is Emmanuel McNeil of Central Gwinnett HS in Lawrenceville, Georgia. The 6-3, 272-pound standout also has offers from Florida, FSU, LSU, Mississippi State, Ohio State and Tennessee. Heís receiving interest from Auburn, Clemson, Georgia and Ole Miss.
One of the fastest-rising juniors in Alabama is LaBryan Ray of James Clemens HS in Madison. On Tuesday, the 6-4, 272-pound defensive end landed an offer from Alabama. Ray also has offers from Arkansas, Duke, Georgia Tech, Kentucky, Michigan, Mississippi State and NC State, among others. And he's drawing interest from Auburn and Georgia.
Presented by WVUA 23, the home of Tider Insider TV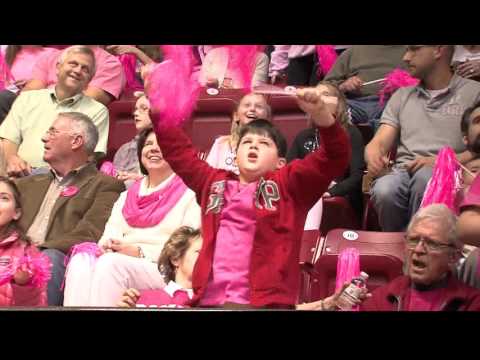 Make your basketball predictions before the start of the game at 6:00 CT Wednesday afternoon.
TI joined host Gary Harris on Tide 99.1 in Tuscaloosa to recap Alabama's recruiting class. Here is that interview.
The recruitment of Tadarian Moultry of Jackson-Olin HS in Birmingham, Alabama is starting to heat up. The 6-3, 221-pound junior linebacker has recently picked up offers from Alabama, Auburn, Clemson, Mississippi State, Ole Miss and Troy.
Missouri was struggling in SEC basketball play before it lost two players to suspension. Alabama was coming off a hard-fought road win in Starkville. Such was the preamble for an 80-71 Tide win over Missouri Saturday before a sold-out Coleman Coliseum crowd announced at 15,383.
Perhaps the most talented prospect at the Tideís recent Junior Day wasnít a junior. He was freshman Owen Pappoe, a 6-1, 198-pound linebacker from Grayson HS in Loganville, Georgia. The class of 2019 star arrived in Tuscaloosa with more than 20 offers. He left with a big one from Alabama.
Presented by WVUA 23, the home of Tider Insider TV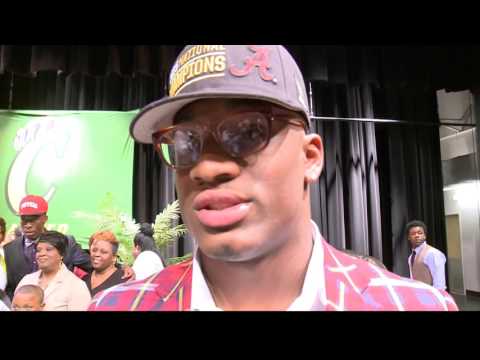 On Signing Day, Terrell Hall of St. Johnís College HS in Washington DC revealed a decision that he'd kept a secret for several months -- that he was headed to Alabama.
The recruiting story of the year might be that of Joshua Jacobs. Over the past two weeks, the 5-10, 200-pound running back from McLain HS in Tulsa, OK went from being a virtual unknown with only a few scholarship offers to signing Wednesday with the national champion Crimson Tide.
The Tide coaches comb every corner of the country for defensive linemen. They found one for 2017 at ASA College in Brooklyn, New York. They recently offered him, Teair Tart-Spencer, a scholarship.
An impressive group of offensive linemen were on campus for Saturdayís Junior Day. Among them was Alabama commitment Alex Leatherwood, a 6-5, 310-pound junior from Washington HS in Pensacola, Florida.
Alabamaís 2016 class came together nicely on Wednesday. The last addition to the top-ranked class on signing day was tight end Irvin Smith, a 6-4, 235-pound star from Brother Martin HS in New Orleans, Louisiana.
Standout defensive back Jared Mayden of Sachse HS in Texas was one of the Tideís big additions on Signing Day. The 6-0, 202-pound senior is glad he finally put pen to paper and inked with Alabama.
Presented by WVUA 23, the home of Tider Insider TV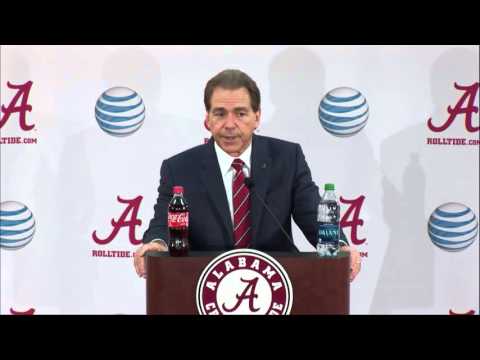 New Tiders
The following have signed to play football for the Tide:
Charles Baldwin
Christian Bell
Deonte Brown
Raekwon Davis
Trevon Diggs
B.J. Emmons
Miller Forristall
Jalen Hurts
Shawn Jennings
Kendell Jones
Nigel Knott
Chris Owens
Aaron Robinson
T.J. Simmons
Jonah Williams
Quinnen Williams
Shyheim Carter
Ben Davis
Terrell Hall
Joshua Jacobs
Jamar King
Scott Lashley
Jared Mayden
Irvin Smith
Lyndell Wilson
Total number signed = 25
Mack to Alabama
Star linebacker Mack Wilson of Montgomery-Carver announced his commitment to Alabama. The 6-2, 225-pound Wilson ranks as one of the nation's top prospects.
Alabama pulled a surprise this morning by flipping Deerfield Beach, FL cornerback/athlete commit Aaron Robinson from Florida. The 6-1, 180-pound Robinson runs a 4.4 40.
Cornerback Jared Mayden of Sachse, TX announced his commitment to Alabama this morning. The elite prospect chose the Tide over Oklahoma.
Ben Davis to Alabama
Gordo star Ben Davis has announced his commitment to Alabama. Davis is considered one of the nation's top linebacker prospects.
Carter commits to Tide
In a ceremony this morning, Kentwood, LA standout cornerback Shyheim Carter announced his commitment to the Tide. As of 9AM, UA had not announced Carter's signing.