In-state offensive lineman Hunter Brannon of Cullman has always wanted to play football for Alabama. On Saturday, the 6-4, 287-pound standout took a big step toward to realizing his dream when he landed and then accepted an offer from the Tide.
Cullman offensive lineman Hunter Brannon announced via Twitter that he's committed to the Tide. Brannon is projected to be an interior lineman in college. More later.
As expected, Blinn CC, TX corner Jhavonte Dean has committed to the Crimson Tide. Dean is considered one of the nation's top junior college players. He's originally from Homestead, FL. More later.
With several of the Tide's top target slated to be in Tuscaloosa for tonight's Champions Cookout, whispers are that Alabama might land a few commitments in the next few days. Here are a few notes.
Todd Harris of Plaquemine HS is the top defensive back prospect in Louisiana. The 5-11, 185-pound playmaker has almost 25 offers. Harris camped at UA on Wednesday and walked away with a new one.
UA camp this week drew several talented players to campus. One of the standouts was Elijah Conliffe, a 6-4, 305-pound defensive lineman from Hampton, Virginia. He was in Tuscaloosa from Monday until Wednesday. It was his second time camping at UA.
TI joined host Drew DeArmond on ESPN Radio 97.7 The Zone in Huntsville. Here is that interview.
Presented by WVUA 23, the home of Tider Insider TV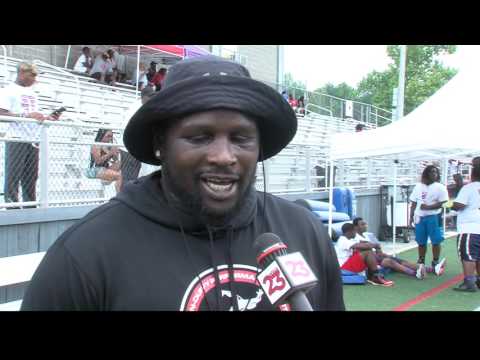 Concord, NC head coach Glen Padgett has not one, but two of the nation's top players. Safety Hamsah Nasirildeen is one of Bama's key 2017 prospects. Defensive end Rick Sandidge will likely be a Tide priority in 2018. Both prospects were in Tuscaloosa at Nick Saban's camp this week.
TI joined host Gary Harris on Tide 102.9 in Tuscaloosa to discuss topics related to Alabama football. Here is that interview.
Nick Saban has announced that senior right guard Alphonse 'Shank' Taylor has been indefinitely suspended from the football team. Taylor was arrested on Sunday morning for driving under the influence of alcohol and leaving the scene of an accident.
As TI expected, it didn't take Fayetteville, AR defensive lineman Akial Byers long to pull the trigger following his visit to Alabama over the weekend. With the 6-2, 280-pounder now committed, the focus shifts to other top DLs who might help fill needs up front. As we've said for a while, the confidence level is high that ...
Recruiting is all about relationships. And the relationship that the Alabama staff built with Akial Byers and his family paid off with a big commitment from the standout defensive lineman from Fayetteville, AR.
It was expected that if everything went well during his visit this weekend, star defensive lineman Akial Byers of Fayetteville, AR would commit to Alabama. Fayetteville assistant Benji Mahan confirmed that Byers did just that today. The 6-2, 280-pound Byers picked Alabama over FSU, Ohio State, Oklahoma, Mississippi State and Ole Miss. More later.
Former Alabama star quarterback Walter Lewis joined hosts Drew DeArmond and Thomas Watts on Bam's radio. Here is that interview.

Over the next several days, Alabama will welcome an impressive group of prospects to campus. The Tide's final individual player camp is set to run from Sunday to Wednesday. A second OL/DL camp takes place next Saturday. Here's a look at some of the players expected to be in Tuscaloosa through the end of next week.
The recruiting merry go round continued this morning when 2017 safety Xavier McKinney of Roswell, GA took to Twitter to announce his de-commitment from Alabama. McKinney's decision leaves the Tide with 14 commitments. But that number is expected to increase soon.
Host Ryan Fowler of The Game on Tide 102.9 in Tuscaloosa goes one-on-one with Nick Saban at SEC Media Days. Here is that interview.
The second week of on-site player evaluations started today.
One of the annual traditions of TI coverage of SEC Media Days is to ask the Tide veterans in attendance to assess which new players have stood out in summer skeleton drills and workouts. The tradition continued Wednesday at the Wynfrey Hotel outside Birmingham.
What a district attorney does or doesn't do to his players is not the main influence when it comes to discipline, Nick Saban-style. Saban isn't interested in what other people think may be "justice" in the case of Cam Robinson and Hootie Jones. He is handling things the best way for his program, using all the facts he has at his disposal. Fans and media have both wondered if game suspensions could still be on tap. Saban addressed that question and others on Wednesday at SEC Media Days.
Senior Gehrig Dieter and sophomore Calvin Ridley have been named to the prestigious Biletnikoff Award list for the nation's top receiver. Dieter caught 94 passes for 1,033 yards and 10 touchdowns last season at Bowling Green. As a true freshman last season, Ridley was Alabama's leading receiver with 89 receptions for 1,045 yards and seven touchdowns. See the complete Biletnikoff list.