Alabama football's Christian Barmore, Christian Harris, Shane Lee, Evan Neal and Ty Perine were selected to the Southeastern Conference's All-Freshman Team, the league office announced Thursday. The team was voted on by the league's 14 head coaches, who were not allowed to vote for their own players.
Cohen commits
Phenix City-Central offensive tackle
Javion Cohen
decided to beat the rush and commit to Alabama a week earlier than expected today. Cohen (6-5, 294) had been committed to Auburn for several months until flipping today. He'll officially sign in the early signing period that begins next Wednesday.
God led me home after everything I've been thru 🙏🏾...committed to The University of Alabama 🐘. #RTR pic.twitter.com/hE8iv2xrZd

— Javo The Great. (@javiocohen) December 11, 2019
One week before the start of the early signing period (December 18-20), here's a quick rundown on some of the Tide's top targets.
Alabama football's sophomore wide receiver Jaylen Waddle was selected as the Southeastern Conference Special Teams Player of the Year, the league office announced on Wednesday. The honor was voted on by the league's 14 head coaches, who were not permitted to vote for their own players.
Tider Insider TV for December 10
The Alabama Crimson Tide football team placed 14 players on the 2019 All-Southeastern Conference Coaches' Team, the league office announced Tuesday.
As the early signing period nears, the Tide is not only trying to close on a few top prospects, but also battling to keep a couple of its prize commitments. Here are quick updates on defensive lineman Timothy Smith and linebacker Demouy Kennedy.
The Alabama Crimson Tide football team landed a league-high 11 players on the 2019 Associated Press All-SEC Team, including five first-teamers, the media outlet announced Monday.
Monday morning Bama football talk
Rodney joined host Gary Harris on Tide 102.9 in Tuscaloosa to discuss the latest on Alabama football and recruiting. Here is that interview.
Here are the Vrbo Citrus Bowl selection day teleconference transcripts from Alabama head coach Nick Saban and Michigan head coach Jim Harbaugh.
The Alabama football team held its annual awards banquet Sunday evening at the Birmingham Sheraton.
In our visitors report heading into this weekend, TI posed three questions: Would the Tide hold on to Timothy Smith? Could Bama sway Phillip Webb? Is Javion Cohen going to flip? As of this afternoon, none of those questions were definitively answered. But that doesn't mean that the weekend in Tuscaloosa wasn't a success.
Alabama Coach Nick Saban and Michigan mentor Jim Harbaugh took the teleconference route to discuss today's announced matchup between their teams Jan. 1 in Orlando's Vrbo Citrus Bowl. Alabama finished 13th in the Playoff Committee's final rankings while the Wolverines came in at No. 14. Following are snippets from each head coach's few minutes with the media.
The Alabama Crimson Tide will face off with the No. 14 Michigan Wolverines in the Citrus Bowl at Camping World Stadium in Orlando, Orlando, Fla., on Jan. 1.
Alex Reese hadn't practiced all week due to a sore foot, but you wouldn't know it. And John Petty Jr. played one of his most complete games at The Capstone. Result: Alabama 78, Duke killer Stephen F. Austin 68. Alabama has now won two straight games.
Make your predictions before the start of tonight's men's basketball game at 7:00.
The Crimson Tide is expecting to host seven official visitors -- including five Bama commits, an Auburn commit and a top uncommitted target -- this weekend in Tuscaloosa. Here's a quick rundown of the visitors.
Remember the old song by The Clash from 1979, "Should I stay or should I go?" That's the exact quandary Alabama quarterback Tua Tagovailoa finds himself in. Tua met the local media Thursday to give updates on that process, as well as on his hip injury. Here are snippets of what he had to say.
Tua provides an update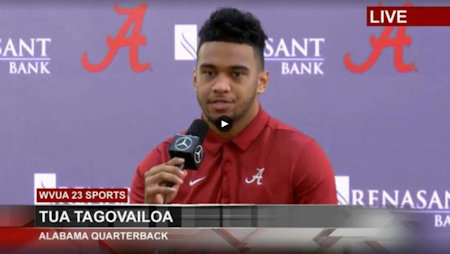 Rodney joined hosts John Longshore and Barry McKnight on WMSP in Montgomery to discuss the latest on Alabama football.

With the early signing period set to begin on December 18, now is when things get serious. Nick Saban and his staff have hit the road this week not only to make sure that those prospects already committed to Bama are still firm, but also to determine exactly where things stand with many of the remaining targets. To this point, there's been no significant developments with the Tide's top prospects. Here's a quick rundown on some those players.