Here's the list.
The Crimson Tide walked it off, 4-3, in game one before falling, 2-1, in game two.
First let me say that I have no idea if this might be a consideration. But just for conversation here, the thought crosses my mind of sliding Tosh Lupoi down to the DL spot and hiring an OLB coach. Before coming to Alabama, the defensive line had been Lupoi's speciality at Cal and Washington. He was considered a very good DL coach.
Reggie Ragland, Derrick Henry, A'Shawn Robinson, Jarren Reed and Cyrus Jones were picked in the second round, and Kenyan Drake was picked in the third.
TI joined host Ryan Fowler on Tide 99.1 in Tuscaloosa to discuss the resignation of Tide DL coach Bo Davis.
Popular Alabama defensive line coach Bo Davis has resigned his position, according to a statement released today by UA head coach Nick Saban. Davis' resignation comes on the heels of a report that UA and the NCAA have been conducting separate investigations into possible recruiting violations.
Kelly is the 18th Alabama player selected in the first round of the NFL draft in the Nick Saban era.
The Crimson Tide got to within one run in the sixth, but six unanswered runs sealed a 12-5 win for the Bulldogs.
Sophomore Cam Taylor of Prattville is one of the state's top prospects in the 2018 class. The 5-11, 195-pound playmaker has early offers from Cincinnati and Michigan. He's also getting looks from Alabama, Arizona State, Arkansas, Auburn, FSU, Georgia Tech, Louisville, Mississippi State, Notre Dame, Oregon and Stanford.
One of the headliners in the Tide's outstanding 2016 class is linebacker Ben Davis of Gordo. The 6-4, 240-pound defender is closing in on his report date of May 29.
Former Alabama and Atlanta Falcons defensive lineman Shannon Brown joined host Gary Harris on Tide 99.1 to discuss the devastating tornado that, five years ago today, swept through Tuscaloosa and claimed the life of his daughter, Loryn. Shannon talked about how he deals with his grief and how he wants Loryn's memory to live on. Here is that interview.
Averion Hurts, the father and the former high school coach of Alabama freshman quarterback Jalen Hurts, joined host Drew DeArmond on Talkin' Ball on ESPN Radio, 97.7 The Zone in Huntsville. Here is that interview.
Presented by WVUA 23 in Tuscaloosa, the home of Tider Insider TV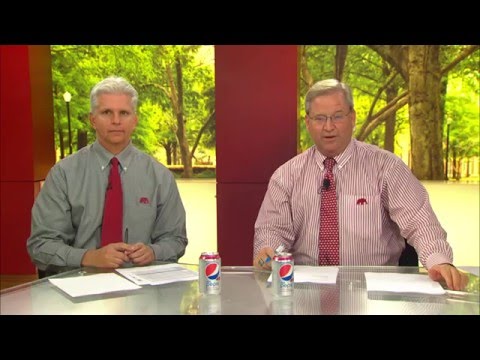 Just prior to going on the air for TI TV tonight, I spoke with QB Tua Tagovailoa's head coach at St. Louis HS in Honolulu. A few quick things from Coach Cal Lee...
Alabama suffered a walkoff loss at Samford, 3-2, as the Bulldogs homered with one down in the ninth for the win.
National signing day is still 281 days away. A lot will change between now and Wednesday, February 1. New prospects will appear. Some old names will fall off the map. Some will commit and then de-commit. In fact, Alabama has already had four prospects de-commit from its 2017 class.
After spending time in the military following high school, Jamar King enrolled at Mendocino College in Ukiah, California, where he became a standout performer last season. Now, at 26, the 2016 Alabama signee has the opportunity of a lifetime to play for Alabama.
The Alabama staff is starting to take a keen interest in speedy Canadian running back Chuba Hubbard of Bev Facey HS in Sherwood Park, Alberta. The 6-1, 197-pound Hubbard already has 21 offers, including ones from Auburn, Cal, Georgia, Miami, North Carolina, Oklahoma, Oklahoma State, Oregon, Tennessee, Texas A&M and USC.
Tide incoming freshman linebacker Terrell Hall of Washington DC-St. John's says that he can't wait to get to Bama. Hall is counting down the days.
Patrick Murphy has said it a dozen times or more: Every SEC weekend series is like a mini Super Regional. Such was the case when his fourth-ranked Alabama softball team downed No. 11 Kentucky 3-0 Sunday before a paid Rhoads Stadium crowd of 3,548. Junior Sydney Littlejohn got the win and went the distance, allowing but four hits. She's now 19-4 on the season. The Tide lost Friday, won Saturday and needed a Sunday "w" to take the series.
Alabama baseball fell in heartbreaking fashion, 2-1, to third-ranked Texas A&M on another walkoff single to end the game. With the loss, the Aggies claim the series win while the Tide moves to 24-17 overall and 9-9 in conference play.
The Alabama offense recorded 13 hits on the way to a 7-4 win at No. 3 Texas A&M on Saturday. With the win, the Crimson Tide evens the series up and improves to 24-16 overall, 9-8 in conference play.
Alabama baseball fell, 4-3, at third-ranked Texas A&M as the Aggies walked it off with a one-out single in the bottom of the 10th inning at Blue Bell Park.
Jared Mayden made the trek from Sachse, Texas to Tuscaloosa for last Saturday's A-Day Game. The Tide's incoming freshman cornerback wasn't expecting what he saw.
One of the state's most highly-recruited prospects for the 2017 class is Mobile-St. Paul's defensive end/outside linebacker Ryan Johnson. The 6-3, 250-pound Johnson already has 33 offers, including ones from Alabama, Auburn, Clemson, Florida, FSU, Georgia, LSU, Michigan, Nebraksa, Notre Dame, Oklahoma, Stanford, Tennessee, Oregon, UCLA and USC.
The state of Alabama has a few outstanding defensive linemen in the class of 2017. One emerging as a top target for the Crimson Tide is Alec Jackson, a 6-5, 270-pound standout at Montgomery-Jeff Davis. Jackson has 18 offers, including ones from Alabama, Auburn, Clemson, Illinois, Kentucky, LSU, Miami, Nebraska, Penn State and South Carolina, among others.
Alabama baseball fell, 8-2, to South Alabama on Wednesday night at Sewell-Thomas Stadium.
TI joined host Drew DeArmond on Talkin' Ball on 97.7 The Zone in Huntsville. Here is that interview,