Alabama secured a commitment from one of the nation's top sophomores Saturday when in-state offensive lineman Pierce Quick announced at A-Day that he was going to roll with the Tide. It was a special moment for the 6-5, 280-pound standout from Hewitt-Trussville HS.
At RollTdide.com.
Here are photos of some of the players, coaches and former Tiders who participated in A-Day.
Though listed with the Whites, JK Scott came through when the Crimson team needed him to, and the senior may be more than just a punter this fall for Alabama. Scott kicked a 30-yard field goal as time expired before an announced A-Day crowd of 74,326 to lift the Crimsons to a 27-24 win over the Whites. As a result, the Crimson team gets steak and the White will eat beans.
Stop the presses: 2017 Alabama football is "not an elite team right now." But that's OK, according to the man who made that assessment, Bama Coach Nick Saban.
Presented by Smashmouth Radio.
Presented by Smashmouth Radio.
TE Miller Forristall talked with the media post game.

Kicker JK Scott talked with the media post game.

DL DaRon Payne talked with the media post game.

Hewitt-Trussville offensive lineman Pierce Quick was on commitment watch heading into his A-Day visit, and shortly after his arrival in Tuscaloosa today, the state's elite OL for the 2019 class pulled the trigger for the Tide. Quick announced that he committed to the Bama staff this morning.
Alabama baseball came up short in both games of Friday's doubleheader, first falling 4-3 in game one before suffering a 13-12 defeat in a 13-inning affair in game two. Following Friday's matchups, the Crimson Tide sits at 15-25 overall and 2-16 in Southeastern Conference play.
Alabama baseball was edged by 11th-ranked Mississippi State, 4-3, in game one of Friday's doubleheader at Dudy Noble Field. With the loss, Alabama moves to 15-24 overall and 2-15 in SEC play, while the Bulldogs claim the series win with the victory.
As always, plenty of big-time prospects are expected to visit UA for the Tide's annual A-Day scrimmage. Here is a look at some of the players who are planning to be on campus.
Here's a list of prospects who have confirmed their plans to visit Alabama for A-Day tomorrow.
See the forum.
Alabama baseball was unable to complete the comeback against 11th-ranked Mississippi State on Thursday evening, as the Tide suffered a 6-5 loss at Dudy Noble Field.
Presented by WVUA 23, the home of Tider Insider TV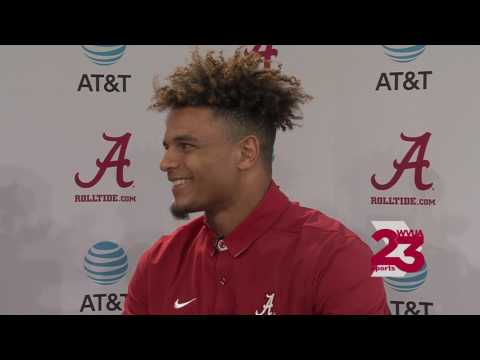 Coach Saban addressed the media following today's practice. Here are some of his comments.
Presented by Smashmouth Radio.
QB Jalen Hurts talked with the media today, April 20.

Safety Minkah Fitzpatrick talked with the media today, April 20.

Here are scenes from the fourteenth day of spring practice.
The team is working outside in shorts and helmets.
The progress of Tide sophomore quarterback Jalen Hurts has been a hot topic on TI this spring....
The Alabama offense tallied 13 hits and seven walks to take down the Alcorn State Braves, 18-1, on Tuesday evening at Sewell-Thomas Stadium.
Presented by WVUA 23, the home of Tider Insider TV.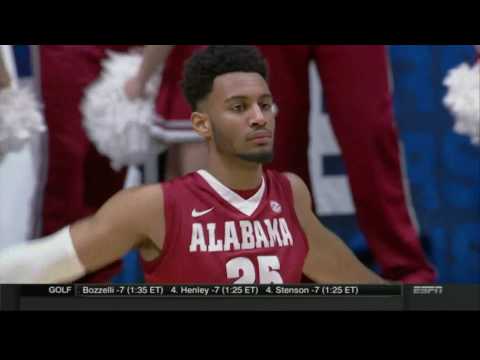 LB Christian Miller talked with the media today, April 18.

LB Keith Holcombe talked with the media today, April 18.

WR Calvin Ridley talked with the media today, April 18.

Center Bradley Bozeman talked with the media today, April 18.

Hewitt-Trussville OL Pierce Quick, one of the state's elite prospects in the 2019 class, joined Scott Griffin and Pat Smith on Smashmouth Radio on 99.1 The Game in Birmingham this morning to discuss his recruitment. Quick, who will attend Bama's A-Day on Saturday, addressed the possibility of making a commitment soon. Here is that interview.

The Lone Star State is a place where college coaches look for linemen. One of best offensive linemen there in the 2018 cycle is Rafiti Ghirmai of Wakeland HS in Frisco. The 6-5, 300-pound prospect has almost 35 offers, including ones from Alabama, Florida, Georgia, LSU, Michigan, Ohio State, Oregon, TCU, Texas and UCLA, among others. He's also drawing interest from Arizona, Oklahoma and Penn State.
TI joined host Drew DeArmond on Talkin' Ball on 97.7 The Zone in Huntsville to discuss the latest on the Tide's spring practice. Here is that interview.
Alabama freshman forward Braxton Key will declare for the 2017 NBA Draft, head coach Avery Johnson announced on Monday. Key will not hire an agent, therefore maintaining his amateurism, and will have until May 24 to decide whether to remain in the NBA Draft or return to the Crimson Tide for the 2017-18 season.
After signing an impressive group of linebackers in 2017, the Tide is looking to add a few more LBs in the 2018 class. One of its top targets is J.J. Peterson of Colquitt County HS in Moultrie, Georgia. The 6-2, 210-pound standout has offers from the likes of Alabama, Auburn, Clemson, Florida, FSU, Georgia, LSU, Miami and Oregon.