Alabama will host a few top 2020 prospects this weekend in Tuscaloosa. Here is a brief look at some of those prospects expected to make official visits.
Alabama already has commitments in its 2020 class from an impressive group of pass rushers. Another one might soon join the class. Also, a quick rundown on several other top prospects.
Rodney joined host Chuck Oliver on The Chuck Oliver Show, which can be heard every weekday on WCNN-AM 680 The Fan in Atlanta. The show can also be heard in Tuscaloosa on Tide 102.9.

Vakakes discusses Robinson's commitment to Alabama
Jackson-Olin football coach Tim Vakakes joined Drew DeArmond and Scott Theisen on Talkin' Ball on ESPN 97.7 The Zone to discuss his program, including the commitment of defensive star Quandarrius Robinson to Alabama on Tuesday. Here is that interview.
On Sunday, the Tide landed a commitment from Theodore four-star linebacker Demouy Kennedy. Based on his junior highlight tape, he might be the state's most athletic prospect in the 2020 class. TI spoke with Theodore head coach Eric Collier about his fantastic looking prospect.
Alabama's 2020 class grew by one today when linebacker Quandarrius Robinson of Jackson-Olin HS in Birmingham announced his intentions to suit up for the Tide. What is Alabama getting in the 6-5, 220-pound standout who ranks as one of the state's top overall players?
Alabama has landed a commitment from Jackson-Olin four-star outside linebacker/defensive end Quandarrius Robinson. The 6-5, 220-pound Robinson ranks among the nation's top 30 prospects. More later.
Bama lands top Texas 2021 cornerback
2021 cornerback
Latrell McCutchin
, who visited Tuscaloosa over the weekend, announced his commitment to the Crimson Tide tonight via twitter. The 6-1, 180-pound McCutchin, of Austin-LBJ, Texas, is expected to rank among the nation's top cornerbacks in the 2021 class. More later.
It was all a DREAM .. My grind made it reality.
100% C O M M I T T E D❤️🐘#BUILTbyBAMA #ROLLTIDE #Island21 pic.twitter.com/8PkeSKxV6A

— Latrell McCutchin🦹🏾‍♂️ (@bil_trell) June 11, 2019
TI goes in-depth on recruiting
Rodney joined host Gary Harris on Tide 102.9 in Tuscaloosa for an in-depth look at Alabama's 2020 football recruiting. Here is that interview.
Tide lands Theodore 2020 standout
Following yesterday's camp, TI reported that one of the standouts was Theodore four-star linebacker
Demouy Kennedy
. The 6-2, 205-pound Kennedy is an incredibly athletic player with tremendous closing speed. This is a great pickup for the Crimson Tide. More later.
100% committed!!! my recruitment is closed!!!! I just wanna thank everyone for their support and love and without my mom & coaches I wouldn't be where I am now and I just wanna thank y'all for everything y'all do 💯#RollTide #RTR @CoachGolding @coachsunseri let's go baby!! 🐘‼️ pic.twitter.com/o9pe4RyiyN

— AFG#32 (@Demouy32) June 9, 2019
In our report earlier today, TI spotlighted Hampton-Dutchtown, GA four-star (with five-star talent) outside backer/defensive end Will Anderson. According to our sources, Anderson was the rave of Alabama's.camp today. We could go on and on about the good things we've heard throughout the day about the 6-3.5, 235-pound Anderson.
For nearly two months a source has been telling TI that this outside backer is "privately" committed to Alabama.
The present is good. The future is bright. Alabama softball is sitting pretty.
Notes on Damieon George, Zachary Evans, Xavier Hill, Quandarrius Robinson, Will Anderson, Timothy Smith, McKinley Jackson, and others.
Tide lands a big one!
As TI predicted over the last month, Galena Park-North Shore, Texas offensive tackle
Damieon George
has committed to Alabama. The 6-7, 333-pounder picked the Tide over offers from Auburn, Georgia, Florida, FSU, LSU, Texas and Texas A&M, among many others. More later.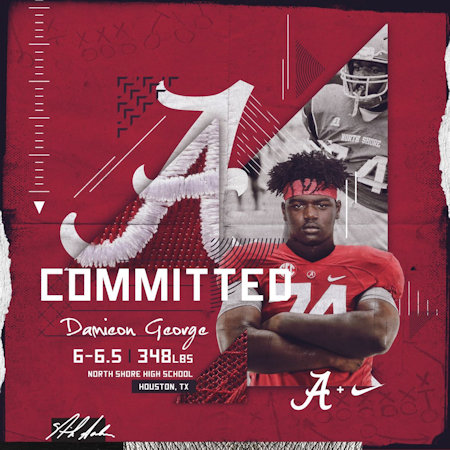 Tider Insider TV for June 4
Is Alabama closing in on the Texas duo of offensive tackle Damieon George and running back Zachary Evans?
TI discusses Bama softball, football recruiting & more
TI joined host James Hardy on The Gary Harris show on Tide 102.9 in Tuscaloosa. Here is that interview.
Needing two wins to advance to the Women's College World Series championship series, Alabama won the opener against Oklahoma in walk-off fashion in eight innings, 1-0, but ultimately fell in the nightcap, 7-3, to end the 2019 season.
The likely final piece to the roster puzzle for new University of Alabama head basketball coach Nate Oats looks to be former Villanova point guard Jahvon Quinerly.
After an offensive showcase earlier in the day Saturday against Florida, Alabama had to battle in a low-scoring pitcher's duel against Arizona as the Crimson Tide shut out the Wildcats, 2-0.
An explosive offense propelled Alabama softball to a record-setting performance in the 15-3 win over Florida Saturday evening to advance in the Women's College World Series.
The UA staff is ready to kick off a busy month of June. Dozens of prospects will make their way to Tuscaloosa over the next several weeks for unofficial visits and to participate in the summer camps. Here's a look at some of the players planning to be on campus during the course of Alabama's first multi-day camp that begins this weekend.
Alabama battled to the very end against top-seeded Oklahoma in Thursday's opening-round game at the Women's College World Series, but a late push by the Sooners ultimately put them ahead in the narrow 3-2 victory over the Crimson Tide.
TI has confirmed that 6-7, 333-pound offensive tackle Damieon George of Galena Park-North Shore, TX plans to make an unofficial visit to Tuscaloosa June 6-8.
Nate Oats talks Bama basketball
Alabama head basketball coach Nate Oats joined host Gary Harris on Tide 102.9 in Tuscaloosa on Thursday morning. Here is that interview.
Birmingham-Jackson Olin four-star outside linebacker Quandarrius Robinson, who might be the state's best 2020 prospect, notified TI earlier this week that he was closing in on his decision.