Advertisement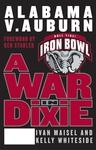 A War in Dixie
Prelude to the Iron Bowl
The Seasons
Chapter One
Alabama
On the morning of Thursday, July 27, 2000, Alabama football coach Mike DuBose entered the lobby outside the Birmingham Medical Forum auditorium with the air of a man comfortable in his celebrity. Which is to say, when DuBose was filmed by three news crews as he emerged from the men's room, he didn't flinch. He didn't react to the obvious intrusion (couldn't they wait until the man took a few steps?). DuBose would be the first speaker in the third and final session of Southeastern Conference Media Days, the unofficial kickoff of football season in the Deep South. As he strode toward the auditorium, DuBose signed a football for a fan. The coach had a little bit of John Wayne in his walk, a rolling rhythm. He is of average height, with a thinning blond combover that doesn't conceal his losing battle with baldness. His waistline ebbs and flows -- at this point, it was flowing -- and his arms did not fully extend, in the manner of well-muscled men. DuBose's upper body seemed tensed, ready to lash out, perhaps at an offensive lineman lined up opposite him. He had been a defensive lineman for coach Paul "Bear" Bryant from 1972 to 1974 and from 1983 to 1996. Either at Alabama or with the Tampa Bay Buccaneers, DuBose had been one of the best defensive line coaches in the nation.
DuBose's appearance on this morning was the highlight of the day. In Part, that was an accident of geography. The Alabama and Auburn coaches always received a little more attention at the SEC Media Days, which are held across the street from the conference's headquarters. In addition, however, DuBose returned as coach of the defending league champion, as the 1999 SEC Coach of the Year and as the coach of a team that experts and Alabama fans alike thought would contend for the national championship. The Crimson Tide went 10-3 in 1999. Two of those losses had been by one point -- one on a last-second pass by Louisiana Tech, one on a missed extra point in overtime of the Orange Bowl against Michigan.
Greatness had been predicted for the 2000 Alabama team almost from the moment that Ryan Pflugner missed that extra point, ending the Orange Bowl with the Crimson Tide on the wrong end of a 35-34 score. Most football coaches, upon being confronted by mountains of praise, take off in the other direction. That's how Bryant, the master of poor-mouthing, did it. DuBose, so obviously a disciple of Bryant, had never given any indication that he would stray from the lessons taught in the Bryant textbook. When he stepped before the microphone and looked up at the theater of writers awaiting his wisdom, however, he not only acknowledged the public expectations for his team; he embraced them.
"I like our football team an awful lot," DuBose said. "We live in a time when people don't believe I should say that. We live in a naysayer's society. I like the character of [our team]. I like the work ethic of it. I like the talent. And I like the staff. It's time now. A big part of my job is getting Alabama to be one of those seven or eight teams that contend for the national championship. We should be one of those teams, and there was a time when we were and we slipped away from that. There was a time in the conference when you talked of Florida and Tennessee. Now we're back where we should be. It's time to quit talking and see if we can do it."
DuBose then veered off into a discussion of the biggest question he had for this team: Who would lead it? In 1999, the Crimson Tide enjoyed the rare nexus of having its best players also being its best leaders. DuBose said that he leaned on them and learned from them, players such as Chris Samuels, Shaun Alexander, and Cornelius Griffin, as much as they learned from him.
"I do not have the words to express how grateful I am to this football team," DuBose said. He made a reference to a biblical verse from Ecclesiastes 4: "Two are better off than one, in that they have greater benefit from their earnings. For should they fall, one can raise the other; but woe betide him who is alone and falls with no companion to raise him!" Said DuBose, "I fell miserably this time last year. Our team and coaches picked me up and, because of that, we were SEC champions."
Few men experience the highs and lows in a lifetime that DuBose experienced in a matter of months in 1999. Then again, DuBose, after spending his entire career anonymously as an assistant coach, hadn't been able to escape the spotlight since the university hired him to replace Gene Stallings in December 1996. He had not been the first choice of new athletic director Bob Bockrath, who had hoped to interview Frank Beamer of Virginia Tech. But the alumni coalesced behind DuBose. Finding someone who had played for Bryant remained important to the Alabama football community. The truth was that there weren't many candidates who qualified. Although quite a number of players from the early and middle years of Bryant's career went into coaching -- men such as Charlie McClendon, Jerry Claiborne, Charley Pell, Mickey Andrews, Bill Battle, Jackie Sherrill, Ray Perkins, and Danny Ford -- few players from his latest, most successful years did so.
DuBose, nearly forty-four years old when hired, appeared to be the perfect candidate. He loved Alabama. He knew Alabama. He had been a graduate assistant coach under Bryant. In 1982, DuBose, then an assistant coach at UT-Chattanooga, accepted an offer to coach at Southern Mississippi. When he returned to Chattanooga from Hattiesburg, his phone was ringing. "Coach Bryant wanted to offer me a..."