My Passion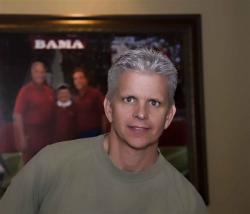 Tim Bailey/Bailey's Portrait Studio

I am a -year old University of Alabama graduate (Class of 84), born in Mobile, raised in Corpus Christi, Texas and now living in Tuscaloosa. I've been watching Alabama football religiously since the 1968 Cotton Bowl, in which Gene Stallings' Texas A&M team upset the Tide 20-16.

The first time I attended an Alabama game was on September 23, 1978. The number-one-ranked Crimson Tide played USC at Legion Field. It was not a good day for Alabama. The Tide was manhandled by an awesome Trojan offensive line that, led by future all-pros Anthony Munoz, Brad Budde and Keith Van Horn, paved the way for Charles White to rush for 199 yards. USC won 24-14. It was LONG drive back to Texas the next day, but the pain of the loss to USC was eased when the Crimson Tide bounced back that year to win the national championship.

I'll always have some fond memories of that first game. I could not believe that I was actually there watching Nathan, Ogilvie, Rutledge and so many others who for me at that time were larger than life. And oh yes, I was in total awe of the "Bear."

I have been following Crimson Tide recruiting for over 40 years. I became a recruiting enthusiast in February, 1975 when Alabama landed what was generally considered one of the top three classes in America. The recruits in that class included the likes of Jeff Rutledge, Tony Nathan, Marty Lyons and Barry Krauss. They won a national championship four years later, and many of them had successful NFL careers. What a great class!
Tider Insider Beginnings
Several years ago I began to dream of starting my own Alabama sports newsletter. Keeping up with the Tide was my passion. I wanted to make it my livelihood.
During a visit to Texas in September 1995, my brother Dalton suggested that I start a website. He said that the startup costs were much less than for a magazine or a newsletter, and he offered to help me get started. Heck, I didn't know what a website was. Dalton gave me a demo, but I wasn't impressed.
One year later when Dalton came back to Texas for another visit, I was still talking about starting a newsletter. Once again Dalton suggested a website, and he gave me another demo. There was a lot more sports information than there had been the year before. That gave me a better idea of the potential value of a website for Crimson Tide news. I was ready to try it.
On October 27, 1996 Dalton and I launched Tider Insider. We did so on the free web space that was included with my Internet access service. We submitted the URL to several search engines. The next day we already had email from Bama fans who had found the site and were excited about the new source of information. By the fourth of November we had over 400 hits a day. In mid-December we moved the site to a new server and began our subscription service. By the end of 1997, Tider Insider was getting millions of hits a month.
When I started Tider Insider I was still living in Corpus Christi, Texas, where I was a sales rep for BFI Waste Systems. Working for both BFI and Tider Insider was a big challenge. In August 1998 I gave up my job at BFI so that I could work exclusively on Tider Insider, and I moved my family to Tuscaloosa so that I could be closer to the action. It's great to be back in Alabama and to be following the Tide in Tuscaloosa.
Tider Insider TV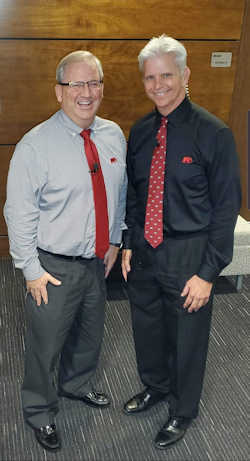 In the summer of 2000, WJRD-TV sports director Gary Harris called me with an idea. Gary suggested that I consider expanding Tider Insider into a 30-minute weekly television show that he and I would co-host. I thought it was a great idea. So after meeting with Gary and WJRD general manager Ronnie Quarles, we promptly moved forward with Tider Insider TV.
On Tuesday, August 29, 2000, TI TV premiered in west Alabama on WJRD. A year later, WJRD became WVUA and moved to its current location on the University of Alabama campus.
Since its inception, TI TV has been shown live every Tuesday night at 6:30 in Tuscaloosa and on cable systems in other areas of west Alabama. In 2005, WVUA was added to the list of stations carried on Direct-TV and DISH Network in the Birmingham market, which also includes Gadsden and Anniston.
Over the years, we've had some great times and outstanding shows. When the first show was aired on the Tuesday before the UCLA game in 2000, Alabama was ranked number three in the country and expectations were high. By the end of the season, Alabama was looking for a new coach. Since then, Alabama has hired Dennis Franchione, Mike Price, Mike Shula and current head coach Nick Saban. The future for Alabama football looks very bright.
I'm proud to say that the Associated Press has named TI TV five times The Best Sports Show in the state. My co-host, Gary Harris, longtime TI TV producer John Huddleston, reporter/cameraman Todd Hoyer, the technical support personnel and many studio camera operators deserve the credit. As for me, I just show up every week and talk about the Tide.
Special thanks go to WVUA station manager Steve Diorio and news director Lynn Brooks. Both have been very positive in their support of TI TV, and I greatly appreciate that.
Finally, on behalf of Gary and everyone at WVUA, I'd like to thank all the viewers of TI TV. Through the years, Gary and I have had hundreds of people stop us to express their appreciation of the show. That means a lot to me, Gary and all who make it happen.
Thanks
Returning to Tuscaloosa to report on Crimson Tide sports was a dream come true for me. I would not have been able to do it without the support of thousands of you Alabama fans. I thank you for that support, and I pledge to you to do my best to bring you the latest and most reliable Crimson Tide sports news.
I am always open to any suggestions, questions or information you may have. Please write to me at rodney@tiderinsider.com.